# 7 balls, #focus, #endupatt, 9 balls flashing, #StagesOfLearning, #technique, 3 heavy balls, 5 heavy balls, 208 minutes
( after two partly chilly, down to 15°C and below, rainy days, now near perfect again and more warm & dry & sunny days ahead )
3b 200gr, freestyle, misc - 12 min.
5 heavy balls, 200 gr casc - 5 min.   Around 100 throws wristy 6-high.
9b flashing - 63 min.   One million times 7 gathers.   Two times 8 g.   11 throws into 7 gathers. 13 throws. (only rethrow attempts, i think)
  #SoL #technique - new little insight / tuning:   It struck me towards end of stint, that in the past I have been throwing the first two throws to abrupt, with abrupt movement up as if i were throwing from loose wrist, which doesn't make sense for the first ball from stronghand - a fifth ball on top of diamond gripped four others (and weakhand then following with its first launched fourth ball on the index where it would make sense to try wristy already, but so far, I let it ``follow´´). I am doing them a bit slowlier in any case, but somehow, I managed to even then do them in an abrupt way.   If I do those two throws softer and explicitly get their thrust from forearms almost only, I should get more control over my launches becoming well structured (upto now, I wasn't sure, what exactly makes me sometimes get it well, sometimes bad). Gotta try like that again and track this.
7b casc - 128 min.   44, 43 cl, 43 cl, 44, 53, 53, 45, 49 cl, 55, 66, 53 throws longest runs. Pretty great yield, but I wasn't satisfied, for example, I lost several good runs on ~35 throws' mental (or whatever physiological) barrier, and also did tensed a lot and didn't easily get or stay in snapped-in patterns; no question of ``settling´´ in good patterns, which is my next step & level. Nonetheless, happy with a good yield of course.   [ daily7b II: 66 ]
  Also here, found yet a new aspect, "issue" even: #SoL #focus #endupatt - I am often focussing on stronghands' balls up for orientation, while I should rather partage my attention equally on any / both hands' last balls up. It's surely a result of my alltime stronghand \ weakhand asymmetry that never bothered me, but the issue is one of focus mainly. [Note to self:] Also work on, work with, and track this!
5b fastest - 5 min.   (no long runs)
Total practice time: 208 minutes
Location: rivershore-meadow
13th September 2017
# 7 balls, #StagesOfLearning, #endupatt, 5 balls, 112 minutes
5b casc warmup - 5 min.   very high. low & fast. wristy 5-high.
7b casc - 107 min.   Fourtyseven Day .. got 47, 47, 43, 59, 47, 44, 59, 47, 45 throws longest runs.   A fight "tensed \\ untensed" against tensed shouldermuscles, against bad ratio, against inaccuracy, against doing too far ahead, against rowing too wide, that after a while I won by doing just a hearty bit higher (``than I thought´´; and at the same beat) right from launch, by walking back or forth at launch, by focussing on patterns' top better, trying to orient on it, by doing more speedy and by flapping wrists well (and luckily I felt ``speedy´´ too), and by can't remember.   Several runs felt smooth, comfortable and like going longer, but got slips or pattern became unstable.   One given run, I had the impression, I were controlling pattern's top from a distance, like when trying to put a fidgeting fish at the end of the fishing rod into a small bucket by the handle of the rod from that distance.   [ daily7b II: 59 ]   All I need is two consecutive long runs without the drop in between, you know.
Total practice time: 112 minutes
Location: uneven cobbles under bridge
27th July 2017
# 7 balls, #StagesOfLearning, #endupatt, #mentec, #ThinkAs, 5 ball tricks, 3 heavy balls, #otu, #ballproperties, 5 heavy balls, #exercises, 158 minutes
3 small heavy steel balls, Ø 4cm, 300g, - 5 min   #otu - as good as never used these for juggling before (maybe tried and refuted) - [ #ballproperties ] they give somewhat stable tiny fast patterns, but aren't really first size & weight choice generally. Maybe for exercise.
3b 200gr, freestyle, misc - 13 min. ( the Ø ~6cm again now)   A bit long-time-no-do windmill.   It's comparedly easy to do every second throw the other way over (always crossing hands when required), but pretty difficult to get a nice looking equal bows windmill.
5 heavy balls, 200 gr casc - 5 min.   105 throws wristy 6-high.   319 t 5-high.   #new #exercises - found, that swaying the pattern sideways left-right-..a.s.o. practises scoop issues and throwing angles very well(!).
5b 56752 - 20 min.   Upto an 8 sides clean run. One 9 sides clean.   Also here: "wristy" spares dwelltime, makes the rhythm seem slower, and gives me breath to better anticipate what's next and fitting throws and the rhythm, their `melody´, to one another.
7b casc - 115 min.   Longest runs (throws): 49, 43, 49 fc (a last ax throw to throwhand-caught), 45, 53, [break], 46 (48?), 45.   #SoL #endupatt #mentec #ThinkAs - Made myself an eye for the upper three balls lately and focused and oriented on that floating 3b-cascade as a "top of the pattern" for aiming into well.
                http://fs5.directupload.net/images/170905/vgusmwj3.gif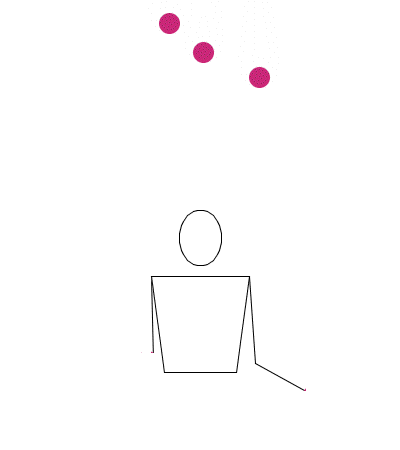 That ``top´´ now has a distinct shape!? - not a nebulous notion of empty air somewhere up there, flewn through by balls, anymore; a better gauge for precision, also. Just another ``aspect´´? .. or sth to cling to for getting it constant? .. practise & time will tell.   [ daily7b II: 53 ]
[ rain stopped this stint & session ]
Total practice time: 158 minutes
Location: rivershore-meadow
3rd July 2017
# 7 balls, #StagesOfLearning, #endupatt, 3 heavy balls, 5 ball tricks, 9 balls flashing, 3 clubs basics, 3 clubs tricks, 5 heavy balls, 5 balls, 315 minutes
3c basics - 5 min   298 doubles (tensed, one fight with halves amidst run). 36 triples. Quads bad.
3c tricks - 5 min   Two to three rounds of 441. ( had hurt the insideward middle limb/joint of my middlefinger on quads and didn't feel 100% secure anymore, so skipped 34530 )
3b 200gr, freestyle, misc - 70 min.   Today's ``stuck with´´ went to all up + 90° - got it uglily twice; to 441 - worked myself up to 12-13 rounds; and to variations of reachovers ( Singles in #n-count. Half-a-windmill like clawed 3-counts. Doubles = two columns = two reachovers. )
5 heavy balls, 200 gr casc - 5 min.   113 throws wristy 6-high.   157 th comfortable head-high 5-high.
9b flashing - 43 min.   iv times 7 gathers. Droppy; many slips on dusty ground.
5b 56752 - 55 min.   Two times 8 sides, one of which clean. Two times 9 sides. Once 12 sides to collapse.
7b casc - 127 min.   43 throws was longest run. #SoL #endupatt - Hardly got over that strange attractor hurdle at about 33-35 throws; often a drift into too wide went into collapse there, but when scooping more to inside, I had too slow handspeed and got early landing balls in even shorter runs. ( no full fresh form, no unleashed arms, .. dunno what to blame ) Maybe not ``speedy´´ enough in mind; also didn't vary a lot, high & slow \ low & fast, soas to find a good in-between ..   [ daily7b II: 43 ]
5b casc, reverse casc - 5 min.
Total practice time: 315 minutes
Location: rivershore-meadow